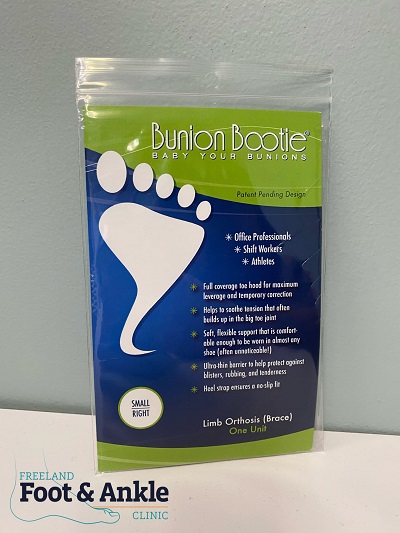 You'd try just about anything to get rid of your painful bunions.
And maybe that's why so many patients resort to painful, expensive, and time-consuming surgical procedures to remove their bunions. While surgery is necessary in some cases, many procedures end up causing post-operative pain and might not be fully effective in getting rid of the problem in the first place.
Bunion Booties are perfect for:
Those who live active lifestyles and can't slow down to recover from bunion surgery
People who downright don't want to have surgery
Anyone whose pre-existing health conditions or financial situations limit their eligibility for surgery
Post-surgical patients who want to maintain proper foot alignment and avoid surgery in the future
How Does Bunion Bootie Work?
Bunion Bootie works by guiding your big toe into proper alignment without causing discomfort in your other toes or the rest of your foot. The Bootie eases discomfort caused by bunions through positioning and breathable, anti-blister technology.
Not only is the sleeve-like Bunion Booty ultra-thin, but it is soft and comfortable, free from hard plastics. It's washable, reusable, and feels great with any kind of shoewear.
You can learn more about Bunion Bootie in this video:
https://www.youtube.com/watch?v=lbIfwIgBlMc&feature=youtu.be
Where Can I Buy Bunion Bootie?
Bunion Bootie is available right here in our Freeland office. After a quick evaluation and an x-ray, Dr. Timothy Dailey will determine if Bunion Bootie is a suitable treatment method for you. After your appointment, you'll walk out the door with much more than just your new Bootie. You'll also get the following:
Access to HIPAA-secure, two-way texting so you can ask questions that come up later
a complete, comprehensive treatment plan specific to your needs and lifestyle
Peace of mind knowing you are in good hands and on your way to getting back on your feet
Bunions and hammertoes are common toe deformities; thankfully, treating these foot problems doesn't have to include months of waiting for an appointment, invasive procedures, or prolonged pain. You don't have to live in pain. Treat your bunions and hammertoes with non-invasive, non-surgical care plans customized to your goals, needs, and lifestyle. Contact our Freeland office by calling or texting 989-695-6788. Appointments are available today.