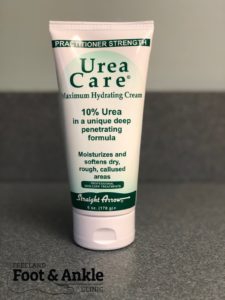 If your feet are dry and cracked, you may be overwhelmed with treatment options. Aside from the wacky at-home remedies (everything from mashed bananas to vinegar), it seems like there's always another expensive cream, lotion, or oil lurking around the corner and promising miracle results at an outrageous pricepoint.
If you can't believe the at-home remedies and don't feel like wasting hundreds on products that may not work, how can you be sure you're treating your cracked heels effectively?
For dry and cracked heels, specialists recommend using products that contain urea, a compound that helps to maintain your skin's natural moisture barrier. To quickly get rid of dry heels, be sure any lotions you use are fragrence-free, limit baths and showers, and always moisturize after bathing.
How to Use Urea Care to Get Rid of Cracked Heels
At Freeland Foot and Ankle, we carry Urea Care, a product formulated with 10% urea. We recommend the following:
Wash your feet with a gentle, scent-free soap in the shower.
Dry your feet thoroughly after bathing, taking extra care to dry between your toes.
Apply Urea Care hydrating cream to you heels and anywhere else that could use a little moisture.
Always keep the area between your toes dry, which means you should not apply lotion between the toes.
You should apply urea care once or twice a day after bathing.
How Long Does it Take For Urea to Heal Dry Skin?
After using a lotion with urea once or twice a day for 2-3 weeks, you should notice an improvement in the texture of your skin. Continue applying the cream as needed to ensure your skin stays soft, smooth, and crack-free.
Does Urea Work for Fungal Toenails and Athlete's Foot?
While urea has been shown to help in combination with other fungal nail or skin treatments, it does not contain any active anti-fungal ingredients. Those with athlete's foot can use products with urea to help shed dead skin cells while treating the fungal infection.
Do I Need a Prescription for Urea Care?
We carry Urea Care in our office so that our patients have access to this high-quality, highly-effective treatment for dry skin. Even if you aren't a patient, we welcome you to stop in if you're interested in purchasing a bottle; additionally, we have samples available. If your dry, cracked feet seem impossible to treat, and if nothing seems to help, we welcome you to make an appointment so we can perform an evaluation and provide our advice.
Tired of feeling embarassed by the appearance of your feet? Give us a call or fill out the form to request a full or sample-size Urea Care, and get on the road to happy and healthy feet with Freeland Foot and Ankle Clinic.